Vivid Money review – how good is the new mobile banking account?
Vivid Money is a new smartphone bank from Germany. Thanks to innovative banking solutions with a cashback programme and commission-free investing in shares, ETFs and cryptocurrencies, the mobile bank is generating a lot of buzz right now.
The neobank was founded in 2019 by Alexander Emeshev and Artem Yamanov as a competitor to classic banks, but also to already established smartphone banks such as N26 or Revolut. The know-how for this definitely seems to be there – after all, the two Vivid founders previously worked for the russia-based Tinkoff Bank, which, with more than 10 million customers, is considered the largest digital bank in the world, at least in terms of user numbers.
Of course, Vivid Money has not yet reached that stage so soon after its founding. But after the fintech was able to raise more than 75 million euros in investor money since its founding – among others from Ribbit Capital and the TCS Group – the goals were set high. In June 2020, the smartphone bank officially launched in Germany, France and Spain and is now also available in Italy. According to the founders' plan, Vivid should already exceed the 100,000 customer mark by mid-2021.
Are you wondering whether it's worth becoming one of them? We would like to give you the answer to these questions in our Vivid Money review, in which we take a close look at the smartphone bank. We will not only show you how to apply for a bank account from Vivid Money and what the requirements are, but also take a look at the cashback programme and give our assessment of Vivid Invest, the optionally available securities account of the Vivid app.
The results of our Vivid Money review at a glance
How did we test?
For our Vivid Money review, we compared both the free and the paid bank account of the smartphone bank. For this purpose, we downloaded the Vivid app on iOS (App Store) and applied for an account with Vivid to make our own experience with the banking app. In addition, we searched for experiences with Vivid Money in the App Store as well as on relevant rating portals.
We also carefully studied the General Terms and Conditions (V 1.3) of Vivid Money, the Special Terms and Conditions App + Web, the Privacy Policy, the Vivid Invest GmbH Customer Agreement, the Special Terms and Conditions App of Vivid Invest GmbH, the Privacy Policy of Vivid Invest as well as the Special Terms and Conditions for the Vivid Money Account, the Special Terms and Conditions for Payments with Virtual Debit Cards and the General Terms and Conditions of Solarisbank.
As Vivid Money is still a start-up, the exact conditions and features can change quite quickly. Therefore, we cannot guarantee that our information is complete and up to date. If in doubt, please consult the current information on the Vivid Money website.
Pros and cons of Vivid Money at a glance
Pro
Quick and easy account opening: The digital current account can be applied for conveniently and in just a few minutes via the Vivid app and without any paperwork.
No credit history check(SCHUFA): Currently (as of November 2021), Vivid does work together with the SCHUFA – this makes Vivid an interesting option for a german bank account without SCHUFA, especially for young people or people with a negative credit history.
Free current account: The standard account at Vivid Money is free of charge. Extra features are available with the paid account for €9.90 per month.
Perfect for globetrotters: With Vivid Money, there are no extra fees for using your debit card abroad.
Cashback: Earn money while you spend? With Vivid's cashback programme you can get up to 25% cashback on your purchases.
Investing feature: With Vivid Invest, you can invest money in fractions of over 1,000 shares and ETFs directly via the app, commission-free – from as little as 1 cent.
Cons
Cashback limited: Cashback is only available up to a maximum of €20/month for a free account or €100/month for a paid account.
No overdraft facility: Even short-term overdrafts are not possible with Vivid Money – but this is not always a disadvantage as you can only spend what you have and do not fall into the debt trap.
Cash withdrawals are not free of charge indefinitely: Cash withdrawals are only free up to €200 per month (Vivid Standard) or €1,000 per month (Vivid Prime) or from €50 onwards, otherwise there is a fee of 3% of the amount withdrawn (min. €1).
Cash deposit not possible: While the restrictions on cash withdrawals are usually still bearable, cash deposits are not possible with Vivid Money.
No "real" investing: Investments made via the Vivid app are not actual shares or ETFs, but only shares that cannot be traded outside of your Vivid account.
What account models are available with Vivid Money?
With Vivid Money, you can choose between two accounts: a free account ("Vivid Standard") and a fee-based account ("Vivid Prime"), which costs a whopping €9.90 per month. The paid account can be tested free of charge for three months.
Both accounts include the extra chic metal card in portrait format, which looks great in your wallet and when paying. For similar cards you usually have to dig deep into your pocket at other neobanks like N26, bunq or Revolut. In addition, you can create up to 15 sub-accounts (so-called "Pockets") with separate IBANs free of charge in both models via the Vivid app, which you can easily share with other people at the click of a button.
In both account models, you also receive cashback on your daily purchases or from certain providers – so-called "Super Deals". Of course, the paid account offers more features that are geared more towards power users. The most important differences between the two account models can be seen in the table below.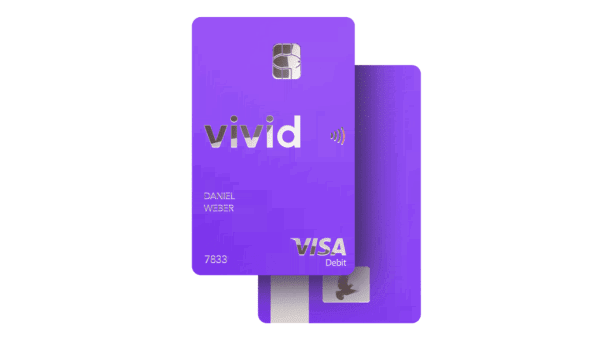 The differences between Vivid Standard and Vivid Prime at a glance
Account
Vivid Standard
Vivid Prime
Cards
Metal debit card
Metal debit card
Virtual VISA credit card
SEPA payments
Withdrawals
Worldwide free of charge up to 200€/month*
Worldwide free of charge up to 1.000€/month*
Currency exchange
Up to 40 currencies
Up to 100 currencies
Cashback
Up to 20€/month
Up to 100€/month
Instant payments
Apple Pay
Google Pay
Monthly costs
0 €
9,90 €
Costs for 1 year
0 €
118,80 €
Sub-accounts
15
15
*Applies only if at least €50 is withdrawn. Otherwise a fee of 3% of the amount or at least 1€ will be charged.
What features does Vivid Money offer?
Anyone who takes a close look at the Vivid Money website will quickly notice that the company has primarily identified young and digital-savvy people as its target group. As a smartphone bank, Vivid does not want to convince potential customers with a broad branch network, personal advice or tradition, but with smart features for easy banking. Using the so-called "pockets", for example, you can open a new sub-account with your own IBAN in less than a minute and share it with friends and acquaintances if necessary.
One of the most popular features of Vivid Money is the cashback programme. Simply put, you can earn money while spending money. The way it works is that you receive a certain percentage (from 0.2% to 25%) as cashback on sales via your Vivid account, which is automatically invested in shares of your choice ("Stock rewards") and which you can ideally continue to grow or, if you wish, have credited to your account if the performance is positive.
In February 2021, the Neobank added Vivid Invest as a new feature to the banking app. Vivid customers can use it to invest in shares, ETFs or, most recently, cryptocurrencies very easily and commission-free from as little as 1 cent. We will show you exactly how this works in our review. In the table below, you will find the most interesting Vivid Money features at a glance.
| | |
| --- | --- |
| Feature | What you get |
| Pockets | In both account models, you can create up to 15 sub-accounts free of charge with your own SEPA-compliant IBAN, which you can easily share with your friends or your better half, for example, to set up a joint account. In addition, you can set up the account in up to 40 (Standard) or 100 (Prime) currencies and thus, for example, create a digital holiday fund ("Travel Pocket") for your next trip. |
| Cashback | hrough the Vivid Money cashback programme, you earn money when you pay, which is automatically invested in (partial) shares of your choice and, in the best case, even increases by itself. |
| Vivid Invest | If you wish, you can not only open an bank account with Vivid, but also a securities account. You can invest commission-free in shares (so-called "fractional shares") of over 1,000 shares, ETFs or cryptocurrencies such as Bitcoin, Ethereum or Dogecoin with small sums starting from one cent. From September 2021 you can also invest in SPACs and precious metals. |
| Vivid Pay | With Vivid Pay, you can transfer money to your friends and acquaintances directly from the Vivid app without entering an IBAN number. All you need is the recipient's phone number. This service is free of charge and available throughout the eurozone, so you can also use the function when travelling. |
| Financial overview | All your income and expenses are recorded and categorised in detail in the Vivid app. This gives you a precise overview of your finances and your income from the cashback programme at any time, with push notifications in real time if you wish. You can also set maximum amounts for individual categories (e.g. groceries or online shopping) and be notified when you are approaching your set limit. |
| Super Deals | When friends and acquaintances open a Vivid account at your invitation, you get access to the so-called "Super Deals" for 8 weeks. These are exclusive offers that give you up to 40€ more cashback. In our opinion, however, this does not seem to be a feature that is here to stay, but rather a marketing campaign to gain as many new users as quickly as possible through word of mouth. |
| Top-up function | With the "Top-up function", you can top up your Vivid account with up to €1,000 free of charge and in real time after the application. The payment options available for this are Google Pay, Apple Pay, SEPA transfer or top-up via credit or debit card. Later, you can transfer up to 200€ (Vivid Standard) or 1,000€ (Vivid Prime) per month to your Vivid account via lightning transfer. |
| Customization options | Since August 2021, the chic metal card from Vivid is no longer only available in purple, but also in turquoise, green, blue and pink on request. In addition, your Vivid credit card can be customized even more with a picture, your initials or a personal message. |
How do I open an account with Vivid Money?
The process of applying for an account with Vivid Money is quite simple, as you would expect from a smartphone bank, and only takes a few minutes. The requirements that an applicant must meet are also kept quite simple.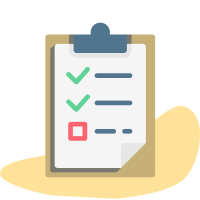 Requirements for the application
Minimum age 18 years
Valid mobile phone number and email address
Permanent residence in Germany or another EU member state
Valid passport or identity card (for identification)
It is definitely interesting that at the time of our test (May 2021), Vivid does not require a check of your credit history when opening an account. So if you for example have a negative SCHUFA, you don't have to worry that your application to open an account will be rejected by Vivid.
As soon as you have all the necessary documents ready, you can start the application directly in the Vivd app. You can search for the Vivid Money app directly in the App Store or Play Store. Alternatively, you can have the link to the app download sent to your phone number or email address via the corresponding function on the Vivid website.
As soon as you have downloaded the app, you can start applying directly.
The application itself is divided into several small steps in which you are asked for basic data such as your name, your email address and your address. If you apply for a Vivid account from your home, you can even save yourself the trouble of typing in your address, as the app will automatically recognise your location upon request and with your permission. If you want to open a securities account with Vivid Invest at the same time, you must also enter your tax number. If you do not have this number at hand, you can always do this later.
In addition to entering your personal data, you also have to answer a few standard questions for the sake of bureaucracy. We were a bit puzzled by the question about a possible tax liability in the USA.
A brief investigation revealed that this is a special requirement under the Foreign Account Tax Compliance Act (FATCA) that does not apply to US banking institutions. Specifically, this is a law passed in the USA in 2010 that is intended to make it more difficult for persons liable to tax in the USA to conceal income through the use of foreign accounts or deposits – provided that this is not your reason for opening an account with Vivid, you can of course tick this box without a guilty conscience.
After all formalities have been completed, the last step is to verify your identity. There are basically two options available for this: Post Ident or online identification directly in the app.
If you want to open your account as quickly as possible, you should of course opt for online identification via video chat, which, according to the information in the Vivid app, only takes two minutes. We can't quite confirm this – without looking closely at the clock, it was a few minutes more. For the identification itself, Vivid works with the well-known and reliable service provider IDnow.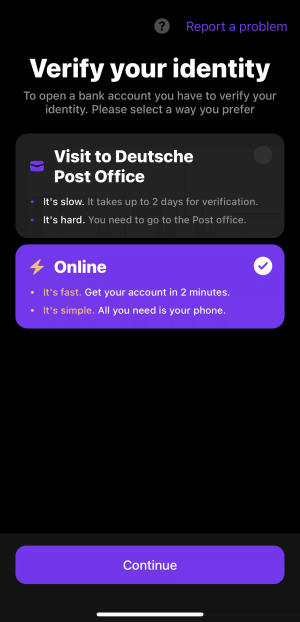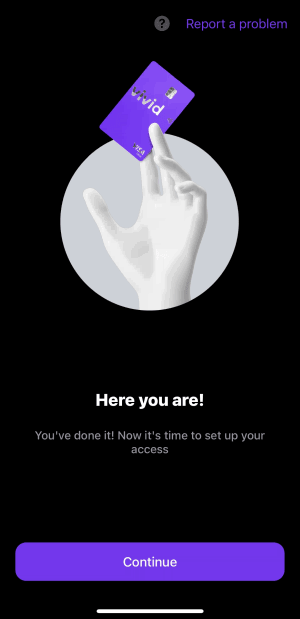 After the identification, the registration process is complete and your account is basically ready to use. Before you can use your Vivid account in everyday life, you must first transfer money to your account. This can be done either by bank transfer or alternatively via a link that you can use to request money from friends and acquaintances and receive the money more quickly.
At the end of July 2021, Vivid Money introduced the "Top-up function". It is now possible to top up one's own Vivid account free of charge and in real time via Google Pay, Apple Pay and by credit or debit card. During the first top-up, up to €1,000 can be transferred to one's own account in real time. Later, up to €200 (Vivid Standard) or €1,000 (Vivid Prime) per month is possible.
This innovation makes it possible to use the Vivid account immediately in everyday life after the successful application. Thus, Vivid Money offers a free current account that can be applied for without a SCHUFA check and can be used in everyday life via the virtual credit card after just a few minutes. In addition, you can already set up a securities account with Vivid Invest. You can find out how this works in the following section.
Vivid Money credit card blocked for inactive customers
Update December 1st, 2021: During 2021, Vivid has started to block the credit card for customers who have not been actively using their card. This has been confirmed by the fintech news provider FinanceFwd, who have asked Vivid Money which customers this directly impacts. As FinanceFwds has reported, Vivid will block accounts of customers who have not made at least 20 Euros worth of transaction during 2 months.
We have received a mail on our account as well, stating that our card will be deactivated but we can continue to use the account through the app, as well as the virtual credit card on our account: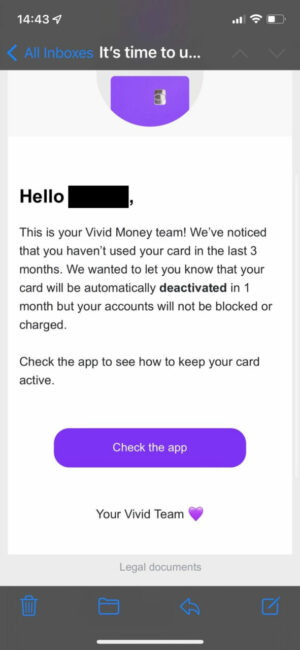 What extra steps are required to open a custody account with Vivid Invest?
As mentioned above, the free custody account with Vivid Invest can be applied for when opening the account or even later if desired.
In addition to the information already provided, a tax number must also be provided if this has not already been done when applying for a current account. However, at the time of our test (May 2021), it was only possible to open an account with Vivid Invest with a German, French, Spanish or Swedish tax ID.
After that, you will first be informed about a special feature of Vivid Invest. When investing via the Vivid app, you can only buy shares in stocks, ETFs or cryptocurrencies. On the one hand, this is good because you can invest in expensive shares such as Amazon or Google even with little money. On the other hand, with this model the shares do not belong to you, but to CM-Equity AG, with whom Vivid cooperates for the portfolio. This means that with this model you receive neither dividends nor an invitation to the annual general meeting.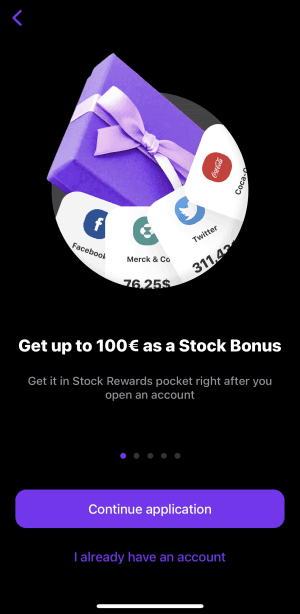 After you have read through all the instructions and passed a short quiz, you can open the account – no additional identification is necessary. At the time of our test (May 2021), there was a special promotion in which you receive a "stock bonus" in the form of a share of up to €100 in a randomly selected share for opening the securities account. In our case, it ended up being a share of €17 in the Twitter share. Considering the seemingly maximum possible €100, this is somewhat sobering. It should be noted, however, that you have to invest at least €100 via Vivid Invest to be able to collect the bonus.
Vivid Money Bank Account: Our Review and Result
Frequently asked questions about Vivid Money
No, Vivid Money itself is not a traditional bank but a mobile banking app. The digital current account is offered in cooperation with solarisBank AG, which has a banking licence from the European Central Bank and is subject to the usual regulations for banks in Germany. In turn, solarisBank does not offer accounts for end consumers; its business model is rather based on providing banking services to other companies – such as Vivid Money GmbH.
Vivid Money offers both a paid (Vivid Prime) and a free (Vivid Standard) current account. Vivid Prime costs €9.90 per month and offers some extra features and other benefits such as more cashback compared to the standard account. If you are unsure which account is right for you, you can test Vivid Prime for three months free of charge and without obligation. After the three months you have to actively confirm that you want to pay money for it in the future. So there is no risk of forgetting to end the trial period and unintentionally slipping into the paid model.
As a banking app, Vivid Money does not have its own branches or ATMs where you can withdraw cash. However, since Vivid cooperates with various providers similar to direct banks, it is possible to withdraw money free of charge all over the world with the smart metal card from Vivid. However, this only applies if you withdraw at least €50 and up to a limit of €200 (Vivid Standard) or €1,000 (Vivid Prime) per month. For all other cases, a fee of 3% of the requested amount will be charged, with a minimum of €1.
No, this is not possible. There are only two ways to deposit money into your Vivid Money account. Firstly, you can transfer money from another current account to your Vivid account. On the other hand, you can use the "Top-up function" to top up your account in real time with up to €1,000 free of charge, for example via Apple Pay, Google Pay or SEPA bank transfer.
In addition, you have the possibility to request money from friends, acquaintances and other persons. All you need is the phone number of the person you want to receive money from. The person will then receive a link via SMS, which he or she can use to transfer the amount. In this way, the cash deposit at Vivid Money would even be possible in a roundabout way – namely by giving the cash to a friend and then sending them a payment link for the exact amount.
Since Vivid allows you to create up to 15 sub-accounts with their own IBAN, there is of course no single IBAN. To find out the IBAN of a sub-account, simply select the desired pocket in the pocket overview of the Vivid app.
Then click on the cogwheel symbol at the top right. You can then customise the name and preview image of the pocket as well as view the IBAN and BIC information.
Unlike N26 or bunq, for example, Vivid Money does not offer an explicit business account as of today (May 2021). In principle, self-employed persons or freelancers could of course apply for a Vivid Money account as a private person and use it for business purposes. However, this is not recommended. This is because the general terms and conditions of solarisBank state that the account may not be used for business or freelance purposes and is therefore limited to private use by individuals. Anyone who disregards this rule risks, in the worst case, having the account closed.
At the time of our test (May 2021, August 2021), the SCHUFA was not checked when opening an account with Vivid. If Vivid does not change this in the future, the smartphone account seems to be an interesting alternative for a current account without SCHUFA.
Security and data protection are an important topic for Vivid. It starts with the metal card, on which no personal data is given except for the name, and ends with the processing of the data. The security of data processing at Vivid has even been tested and confirmed by TÜV Süd. Furthermore, all customer data is stored in secure data centres within Germany and not on foreign servers. Access to the app is either via a self-selected password, Face ID, Touch ID or pin code.
The money deposited in the account is also safe – at least up to an amount of 100,000 euros. The money deposited in the Vivid account is protected up to an amount of 100,000 euros by the German Deposit Guarantee Scheme (DGS) via the partner solarisBank, where the account is ultimately opened.