Tomorrow Review: How good is the sustainable bank account?
Tomorrow Bank, known for its commitment to sustainability, offers you an eco-friendly current account as an alternative to traditional banking. The promise is simple: sustainable banking without compromise. Whether it's a credit card made from wood, support for charitable projects, automatic climate protection contributions, or investing in sustainable industries, Tomorrow presents itself as the digital counterpart to GLS Bank or Ethikbank and in a similar vein as bunq.
With over 120,000 customers across Germany, including Germans, foreigners and expats, Tomorrow's offering sounds quite promising.
We decided to test how well Tomorrow Bank manages to align with these goals while promoting a sustainable lifestyle for your own account. To assess this, we opened an account with Tomorrow, closely examined the Tomorrow Visa card, and thoroughly explored the dozens of sustainability features available.
Today, we will take a closer look at Tomorrow Bank, covering the following aspects:
Who and what is behind Tomorrow
Account Models and Various Credit Cards Linked to the Current Account
Sustainable Features and Initiatives
Our Overall Experience with Tomorrow Bank
Join us as we dive into the details and share our insights into the Tomorrow Bank.
Tomorrow: Our Review and Result

Tomorrow
Service and features: 5,0
Mobile current account with VISA credit card
No credit history required when opening
Great app, Google and Apple Pay
Focus on sustainability and climate protection
Quick online application 
Available without residence
Tomorrow Account and Credit Card: Who's behind it?
While we refer to it as Tomorrow Bank, the entity behind the account is actually Tomorrow GmbH, a Hamburg-based financial technology (fintech) company. Tomorrow collaborates with Solarisbank behind the scenes, responsible for handling all banking operations. Tomorrow acts as a front-end, leveraging Solaris' banking services to offer you a combined account and credit card—an innovative concept known as a "smartphone bank."
What does this mean for you? Firstly, there are no significant differences, as you still benefit from full deposit protection under Tomorrow (up to EUR 100.000, like any other German bank). You'll receive a standard current account with an IBAN, along with a VISA debit card provided by Tomorrow, which you can use for shopping and payments.
This setup is similar to providers like Vivid Money, and even N26 operated this way in the past (although N26 has since obtained its own banking license—an achievement Tomorrow has yet to reach).
Sustainable Account Models: What Does Tomorrow Offer for Accounts and Cards?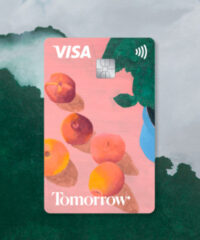 Tomorrow Now, 3€ pro Monat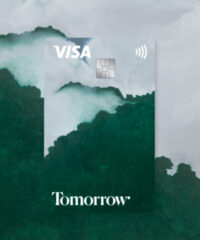 Tomorrow Change, €7 pro Monat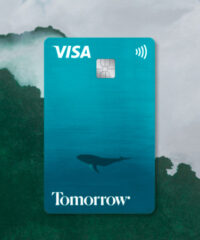 Tomorrow Zero, 15€ pro Monat
Tomorrow currently offers three different account models: Tomorrow Now, Tomorrow Change, and Tomorrow Zero.
Up until October 2021, Tomorrow Now was free, but now it costs €3 per month. Tomorrow Change is priced at €7 per month, while Tomorrow Zero, despite its name, is the most expensive option at €15 per month. The Zero account, however, emphasizes "Zero Emissions."
Before delving into the features in detail, let's provide an overview of the features included with all Tomorrow account models:
🌍 Climate protection contribution per euro spent
💳 VISA debit card with contactless functionality
💳 Transfers and standing orders
💳 Cash deposits via transfer or at partner branches (e.g., REWE)
💳 Withdrawals in foreign currency without additional fees
💳 Google & Apple Pay
💳 No additional fees for foreign currency transactions
🏦 German IBAN current account
🏦 Deposit protection up to €100,000
🏦 3D Secure authentication
🏦 At least one sub-account (Pocket) included
🏦 Account switching service
🏦 Optional overdraft facility
🌍 Deposits allocated to sustainable projects
🌍 CO2 footprint analysis
🌍 Rounding up for investment in sustainable projects
👩🏼‍🦰 Telephone customer service
👩🏼‍🦰 Email and live chat support
All these features are included with every Tomorrow account. Now, let's take a closer look at the costs and fees associated with each account and explore the advantages of the Change and Zero accounts compared to the Now account.
Fees, features and costs associated with a Tomorrow Account
| | | | |
| --- | --- | --- | --- |
| Account Model | Tomorrow Now | Tomorrow Change | Tomorrow Zero |
| Card | | 3 cards to choose from | Wooden Credit Card |
| Costs | €3 | €7 | €15 |
| Apple Pay & Google Pay | | | |
| VISA Debitkarte made from wood | €20 | €20 | |
| Cash withdrawals | €2 per withdrawal | 5 free, then €2 per withdrawal | |
| Payments in foreign currency | | | |
| Cash withdrawals in foreign currency | No additional fees | No additional fees | No additional fees |
| Cash Deposit and Withdrawal | at over 11,500 partner stores (e.g., REWE, dm) | at over 11,500 partner stores (e.g., REWE, dm) | at over 11,500 partner stores (e.g., REWE, dm) |
| Insights and Expense Analysis | | | |
| Sub-Accountes (Pockets) | 1 | up to 5 | Unlimited |
| Joint Account with Partner | | | |
| CO2 Savings | | | Financing selected climate projects and organizations |
Summary of details. All costs and limits per month.
Pros and Cons of a Tomorrow account
Pros
Sustainability: The account is designed with sustainability in mind, and even the most affordable option includes automatic climate protection contributions and opportunities for sustainable investments.
CO2 Footprint Analysis: Awareness drives change. All accounts come with an automatic CO2 analysis feature.
Simple Fee Structure: All fees are straightforward and rounded amounts: €3, €7, or €15 for the account, and €2 for cash withdrawals with the cheapest account. We appreciate the transparency.
Everything you need with a bank account: Deposit protection, IBAN, VISA debit card, contactless functionality, cash deposits, and an app—there's hardly anything missing from the Tomorrow account.
Non-discriminatory approach to SCHUFA and credit scoring: Finally, a provider that doesn't solely rely on SCHUFA. Tomorrow does not perform a SCHUFA check during account opening, giving many customers access to banking services.
Phone Support: It's a rarity among smartphone or neobanks, but Tomorrow offers phone support! Available Monday to Friday, alongside email assistance.
Overdraft Facility: Tomorrow now offers an optional overdraft facility. SCHUFA will be checked for this service.
Questions and answers: What is usually disliked at most banks is done well at Tomorrow. The FAQs on the help page answered many of the questions we had.
Cons
No Free Account: Unfortunately, the free account option has been discontinued. Until October 2021, the Now account was a free current account alongside the two paid card models.
No Online Banking (web): Access to your account is only available through the app; there is no extensive web access or online banking for your account.
Limited Special Features: There are no credit offerings, the VISA card is not a credit card, and in terms of cashback, buyer protection, or insurance, Tomorrow offers relatively little.
Sustainability Considerations: What used to be "1 sqm of rainforest" has become "0.2 wheelbarrows of ecosystem." The compensation certificates have also become more expensive, leading Tomorrow to no longer promise full offsetting of the CO2 footprint of a German citizen. As with many things, advertising slogans sometimes need to be adjusted as the underlying structures are still evolving.
Cash Deposits Only at Retail Stores: If you want to deposit cash, you need to go to retail stores as it cannot be done at ATMs. At least it's free of charge.
No business or freelancer account: The account is only available to individuals. There is no alternative for freelancers, self-employed individuals, or residents of other EU countries.
How Good is the Tomorrow Account? Our Favorite Features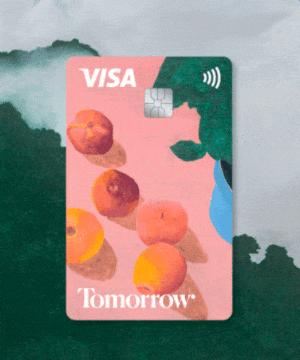 Sustainability as Standard: When using your Tomorrow VISA card, you contribute to climate protection. With every euro spent using your Tomorrow Visa card, "0.2 wheelbarrows" (previously 1 sqm of rainforest) are protected. Although this is somewhat vague, Tomorrow provides more transparency on its website. In addition to rainforest protection projects in Brazil, other climate protection projects are in progress. The funding for such projects comes from the interchange fee paid by the merchant during transactions.
Account without SCHUFA Check: When opening a Tomorrow credit card account, no SCHUFA assessment is conducted. Individuals with low or irregular income can also apply for the Tomorrow Visa card without worrying about their SCHUFA status. Tomorrow is the only German account doing this, with foreign accounts such as Revolut, bunq and Monese also not caring about credit checks.
Simple Fee and Account Models: While the free account option has been discontinued, we believe that the costs, in comparison to many other neobanks, are straightforward and transparent. €36, €84, or €180 per account per year—Tomorrow can definitely work with these fees while maintaining sustainability.
Wooden Card – Rethinking Credit Cards: With the Zero account, you receive a limited edition wooden card made from Austrian cherry wood free of charge. The Zero account also offsets the average CO2 footprint of an individual in Germany through climate protection projects.
Insights and Analysis: For those who want to better understand their own behavior, the Insights and CO2 analysis features are available. Income and expenses are analyzed, providing a convenient household overview. The CO2 analysis also helps track one's carbon footprint.
The Tomorrow App: A Look Inside
The app is divided into three sections: Home, Future, and Impact.
On the Home page, you can view your current account balance, recent expenses, and the amount of "wheelbarrows of ecosystem" (previously square meters of rainforest) you have contributed. Additionally, you can perform actions such as sending money from this section.
In the Future section, you can create sub-accounts called 'Pockets' for saving towards specific goals, such as a vacation.
Under the Impact section, you can see how much you have contributed to sustainable projects. This area also provides additional information about the projects supported by your customer deposits.
Startseite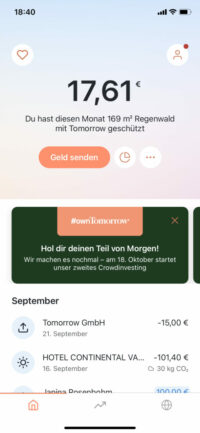 Future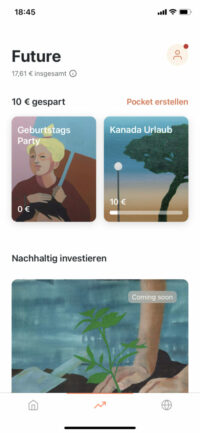 Impact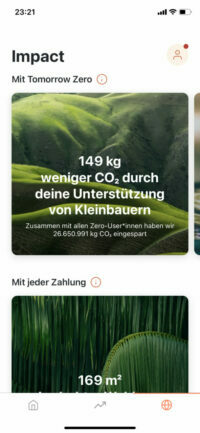 Furthermore, you will receive push notifications informing you of the amount spent using your Tomorrow card. Your account balance is updated immediately. If you need to pay a bill, you can use the IBAN scanner within the Tomorrow app to scan the IBAN with your camera. This makes bill payments easy and hassle-free, as you no longer need to manually enter the IBAN.
The "Insights" feature categorizes your expenses, allowing you to track how much money you have spent in different areas. This virtual household book divides expenses into categories such as Travel, Shopping, Dining, Direct Debit, Transportation, and Groceries.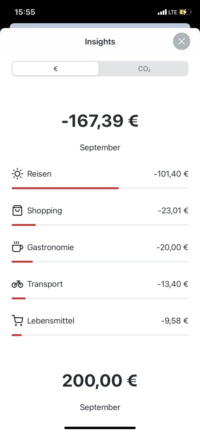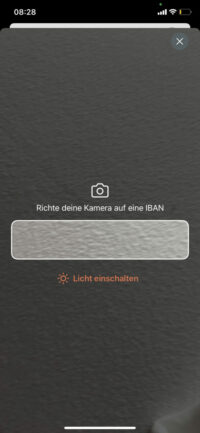 Opening a Tomorrow Account: How It Works
When it comes to account opening, the Tomorrow Account scores right away as we were able to open our account within minutes without any paperwork. The process was similarly smooth as our experience with opening a C24 account: a simple and understandable process that doesn't pressure you, and you can even finish it at a later time.
Another advantage of the Tomorrow Account is that it does not discriminate against individuals with a poor or negative SCHUFA score. Tomorrow does not collaborate with SCHUFA for account opening, so our data was not queried, and the account does not appear in the SCHUFA record.
However, there are some requirements that you need to fulfill for the account opening. Here's a checklist for you: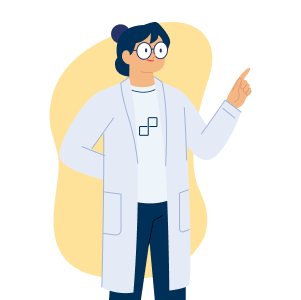 What requirements do I need for an account with Tomorrow?
At least 18 years old
Valid identification document (ID card, passport, or residence permit)
Mobile phone number and email address (for contact and contracts)
Residence in Germany, Austria, Italy, Spain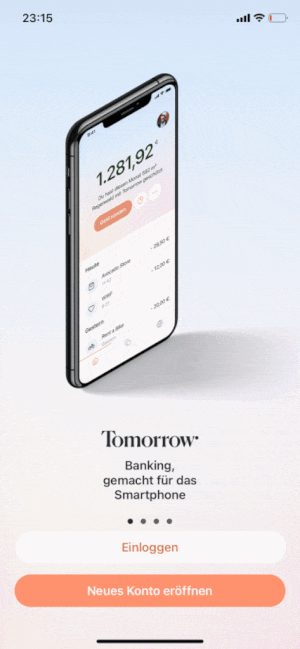 Tomorrow Bank Registration: Pretty simple process
We have documented the steps for you and will briefly explain how it works.
You can register through the app or the Tomorrow website.
The registration process takes only a few minutes. If you complete the registration on the website, you will need to download the app later for identification purposes.
Identification can be completed through the app via video call.
After registration and identification, your account is opened. Now you need to choose a card. You have the option to choose between the Now Debit Card (€3.00 per month), the Change Card (€7.00 per month), and the Zero Card (€15.00 per month).
The delivery of your new Tomorrow credit card takes approximately 3-5 business days and is carried out through DHL GoGreen.
Once you have received your Visa card, you need to activate it through the app in the online banking section.
How Sustainable is the Tomorrow Account? A Look Behind the Scenes
The most important aspect of opening a Tomorrow Bank account is sustainability. Tomorrow stands out by focusing on a climate protection contribution (previously known as Green Cashback) rather than the usual card features like bonus points, insurance, or shopping discounts. With this feature, every euro you spend supports a sustainable climate project.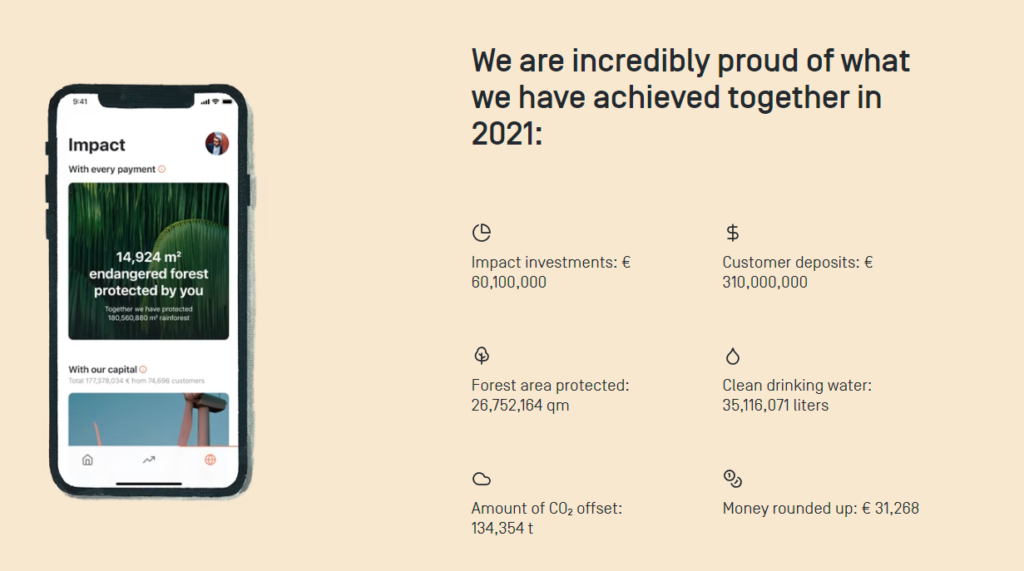 Tomorrow publishes a sustainability report every year, showcasing the achieved impact. In addition to a strong focus on sustainability, social and ethical projects play a significant role. Tomorrow invests not only in green government bonds but also in infrastructure bonds that drive the mobility transition, social bonds that support affordable housing, microcredit funds that empower low-income individuals, and energy bonds that contribute to the energy transition. Tomorrow is constantly working on new projects that make the future a little bit better:
Every euro is invested in the preservation of an "ecosystem in South Africa" (previously: square meter of rainforest)
Customer deposits are exclusively invested in sustainable projects or industries.
No investments of customer funds in arms, nuclear power, factory farming, or coal power.
According to Tomorrow, over 140 million euros have already been invested in sustainable projects.
Support for microcredit projects that improve the economic well-being of low-income individuals
Bonds like 'Green Bonds' that promote environmentally friendly projects to achieve sustainability goals
The social business describes itself as a 'Zebra,' differentiating itself from so-called 'Unicorn' companies. 'Unicorns' are start-ups valued at over 1 billion dollars. Such start-ups prioritize growth to achieve this goal. For Tomorrow as a 'Zebra,' growth and revenue play a less important role. Tomorrow places greater value on people, the climate, and society.
Because of this, Tomorrow has been awarded the B-Corp certification. Members of the B-Corp network must meet strict standards in the areas of social impact, environmental performance, transparency, and corporate structure. The business model of such companies does not solely focus on profit maximization at the expense of the environment and society but contributes to aligning profit orientation with social value and ecological sustainability. Additionally, efforts are being made to make such a corporate structure the new status quo. Read more about how Tomorrow obtained the B-Corp certification.
Tomorrow Funding and Finances: How Does Tomorrow finance the business?
Tomorrow has become one of the largest neobanks or smartphone banks in Germany, with around 120,000 customers as of the end of 2022. Tomorrow finances itself primarily through customer revenues, especially the mandatory account fees introduced in October 2021.
However, Tomorrow still relies on external investors. So far, it has raised around €25 million from investors and has been valued at around €75 million.
Regarding the investments themselves, as of the end of 2022, Tomorrow managed over €370 million in customer deposits, with around €140 million invested in sustainable projects, including renewable energy and sustainable housing, according to Tomorrow's statements.
As for how Tomorrow will continue to operate without the need for new investor funds, we cannot currently assess. In 2022, there was a loss of approximately €14 million, which could lead to further changes.
Tomorrow review: What we think of the sustainable mobile bank
Tomorrow advertises that an account can be opened within 8 minutes. This is indeed the case. The account opening takes place in a few minutes via the app or website. Immediately afterwards, identification is carried out by video-identification, which is also completed in a few minutes. No paperwork is required.
After 2 working days, the credit card arrived by post in a very nice package design. Before using your card, you must activate it in the app. Apple and Google Pay are also only possible after activation. Push messages about spending and credits come in real time. Transfers are also made very quickly.
The app is rated 4.9 out of 5 stars in the Apple Store. The app also has very good ratings on Android. And our experience with the app is also very positive. The app is clearly laid out, offers great features/functions and the 'clean' design is also very appealing. As a user, you can see your own finances at a glance, as well as the impact that has been made. Suggestions for improvement from the community are implemented and contribute to an ever more user-friendly app.
We find the pockets, the IBAN scanner and the categorisation of expenses very helpful. The automatic categorisation of income and expenses helps to get an overview of one's finances. With the IBAN scanner, transfers can be made very quickly and the tedious typing of an IBAN is no longer necessary. The pockets help to achieve savings goals for specific occasions. But we particularly like the 'Impact' section. This feature tracks how much you have contributed to the preservation of the rainforest. This feature motivates you to pay with the Tomorrow Visa card as often as possible and gives you a good feeling. As a user, you get the impression that it has never been so easy to be part of the change.
We like the app very much, but unfortunately a 'real' credit card with a credit limit is not available. We would like to see this card model in addition to the debit card.
Until the beginning of October 2021, Tomorrow offered a free account which was subsequently abolished. Now Tomorrow offers 3 account models, which are available for 3,00, 7,00 and 15,00 Euro per month. However, existing customers can continue to use their account free of charge and Tomorrow informs that they want to find a solution for those who cannot afford a fee-based account.
Only in the most expensive model for €15.00 per month, unlimited cash withdrawals are possible. With Tomorrow Change, you have up to 5 cash withdrawals free of charge per month, while with the cheapest account, you will have to pay 2,00 Euro per withdrawals. That's why Tomorrow is not suitable for frequent cash withdrawals.
Regarding emission-offsetting, only with the Zero account the CO₂ emissions of an average German person are offset, among other things. We have the impression that the €15.00 monthly fee is not only paid for the account and the card, but also to provide monetary support for the numerous projects. In principle, this is to be seen as positive, but unfortunately it is not possible to get a donation receipt for this monthly fee and the CO₂ compensation share, as ClimatePartner GmbH is not classified as a purely non-profit organisation.
Service and features: 5,0
The decisive features that speak for the Tomorrow debit card are the numerous climate-positive and social projects that are supported with an account with Tomorrow. An account is worthwhile for anyone who attaches great importance to a lifestyle that is as climate-neutral and sustainable as possible. Tomorrow is active on numerous channels, such as Instagram, TikTok, LinkedIn, Facebook and Twitter. You can learn a lot about the different projects through the social media channels as well as through an online magazine. We really like this transparency and it makes Tomorrow authentic as a sustainable debit card.
When we tried to call Tomorrow's customer service on the Friday before the election Sunday (26.09.2021), we got a tape announcement that all employees were on the streets of Hamburg to participate in the Fridays for Future movement. When there is an urgent matter, it is certainly annoying when customer service can only be reached by email and not by phone. However, this fact very much reflects the authenticity of Tomorrow GmbH. As a customer, one does not have the impression that greenwashing is being practised. This is also confirmed by the B-Corp certificate.
What's behind Tomorrow?
Tomorrow
Banking for a better future

Company name
Tomorrow GmbH
Company type
Fintech
Address
Neuer Pferdemarkt 23, 20359 Hamburg, Germany
Website
tomorrow.one/
Email
hello@tomorrow.one
Phone
+49 40 228 61 410‬
Whatsapp
Not available
Hours
Not available
Social Media
Instagram
Twitter
Facebook
English support
No
How did we test?
We tested the free Tomorrow credit card. For this purpose, we opened a current account and received the Tomorrow credit card. We tested the card, the account and the mobile banking app for several weeks. We tested both the cheapest and the most expensive account models. In this article, we write about our experiences.
In addition, we show you what other features the credit card has and go into how sustainable Tomorrow really is. Since Tomorrow is a young mobile bank, product's conditions may change over time. We give our best to remain up to date but we advise you to check for the exact conditions before applying to the Tomorrow current account.
Frequently asked questions about Tomorrow
The fintech company Tomorrow GmbH does not have a banking licence. Therefore, the company works together with Solarisbank AG. Solarisbank AG specialises in providing a regulatory framework and core banking system for fintech start-ups. Your money is protected at Solarisbank by the European deposit guarantee of up to €100,000. Tomorrow GmbH is the technology platform. Tomorrow also provides customer service and is responsible for sustainable projects. Solarisbank also manages the sustainable investments of customer deposits.
Since the introduction of the PSD2 payment service guidelines, TAN numbers are often required to log into the online banking area. Not with the Tomorrow app. Here, the app is hard-coupled with your mobile device. This is done through 'device binding'. You only need to enter an SMS security code once. After that, you can open the app on your mobile phone at any time using your password, fingerprint or Face ID.
If you do not use your Tomorrow account for a longer period of time, you can deactivate it in the app. This additional security function is quick and easy.
In addition to a high awareness of sustainability, social and ethical projects also play a major role. It is not only invested in green government bonds, but also in infrastructure bonds that stand behind the mobility turnaround, in social bonds that stand for social housing, in microcredit funds that stand up for a better economy for low-income people and in energy bonds that stand for an energy turnaround. Tomorrow is constantly working on new projects that make the future a little bit better.
Every euro is invested in the preservation of one square metre of rainforest.
Customer deposits are invested exclusively in sustainable projects or industries.
No investments of customer funds in armament, nuclear power, factory farming and coal power.
According to Tomorrow, over 30 million euros have already been invested in sustainable projects.
Support for microcredit projects. These loans improve the economic viability of low-income people.
Bonds such as 'Green Bonds', which support environmentally friendly projects to achieve sustainability goals.
Tomorrow has been awarded the B-Corp certificate. Members of the B-Corp network must meet strict standards in the areas of social, environmental, performance, transparency and corporate structures. The business model of such a company does not involve pure profit maximisation at the expense of the environment and society, but helps to ensure that profit orientation goes hand in hand with social added value and environmental sustainability. Work is also being done to ensure that such a corporate structure becomes the new status quo.
The Tomorrow Visa card is a debit card and not a credit card with a revolving limit.
The cash amounts are debited directly from the associated current account. There is therefore no monthly credit limit.
You can however apply for an overdraft with Tomorrow. Please note that a credit check and solvency check will be done if you apply for an overdraft.
Yes, there are sub-accounts called "Pockets." These are included with every account but have limitations depending on the type of account you have. With Tomorrow Now, you have 1 Pocket included, with Tomorrow Change you have up to 5, and with Tomorrow Zero, you have unlimited sub-accounts available.
Yes, you can deposit cash at Tomorrow. This can be done at retail locations with the following partners:
REWE
Penny
dm
Rossmann
freenet
toom
Unternehmensgruppe
Dr. Eckert (includes PVQ PresseShop, ServiceStore DB, etc.)
OMV gas station
BUDNI
Q1 gas station
For cash deposits, there is a maximum limit of 1,000 euros per deposit or per week. The minimum limit is 50 euros.