Blackcatcard: Review and test of the free money account
The Blackcat Card: Does a black cat bring luck or misfortune? We asked ourselves this question at Blackcatcard, so we directly opened an account and tested it for you.
The Blackcat card entices with a free account, no SCHUFA inquiry, good interest on the deposit, and several features such as a black card, countless partner cards, cashbacks, crypto, free cash, and more.
Since the Blackcatcard is relatively new and many are first asking themselves what our experience with the Blackcatcard was, we have prepared our review for you and answer, among other things:
What the Blackcatcard is all about and who is behind it
What features you get for the account and the card
What costs there are and what the account is best suited for and of course
Advantages and disadvantages of the Blackcatcard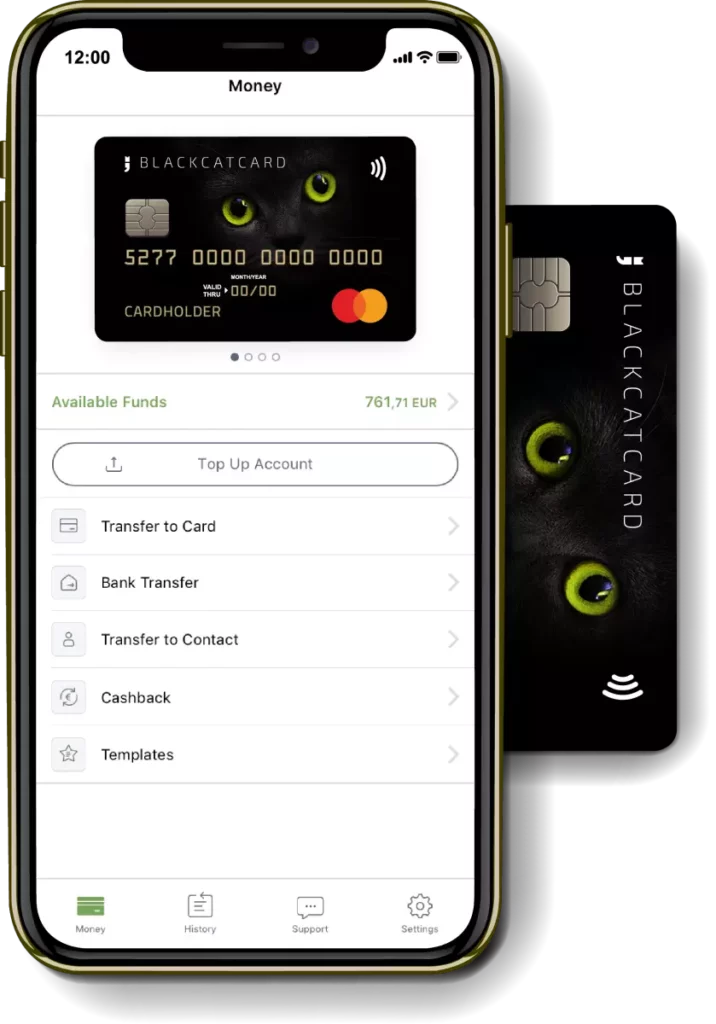 Blackcatcard Mastercard tested by GIROMATCH
Kostenloses IBAN-Konto mit Mastercard
Ohne SCHUFA-Prüfung, kein Nachweis notwendig
Kostenlose Euro-Zahlungen, Bargeld in EU kostenlos bis 200 Euro
4,00% Verzinsung auf Guthaben
🔒 Your data is secure
Our Experience with the Blackcatcard Mastercard & Account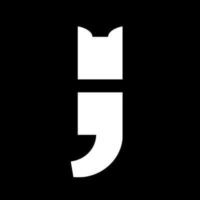 Blackcatcard
Das Produktangebot der Blackcat-Card auf einen Blick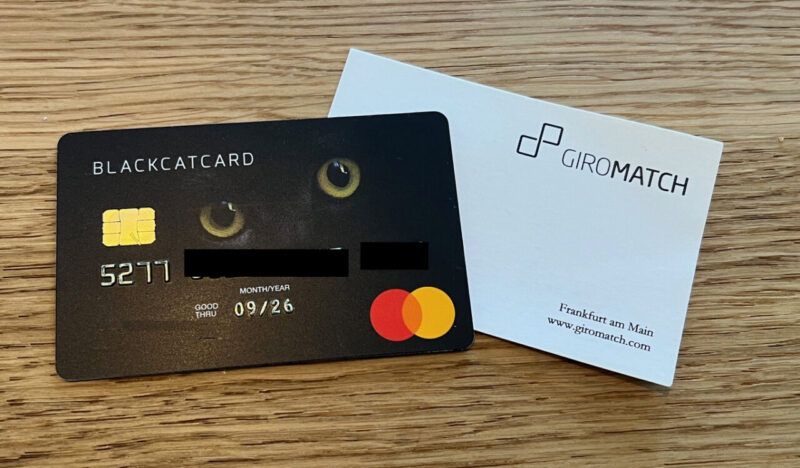 At first glance, it's somewhat challenging to properly categorize the Blackcatcard. It's a money account, but not a checking account, rather only an E-money account. There is a free Mastercard, but not a real credit card, essentially a debit card. It can be used for everything – withdrawals, transfers, payment – but caution is required with larger amounts and especially abroad due to potential costs.
The Blackcat has offered more than 2% interest for over a year – currently 2.20% p.a. on the account. This sounds good, but unfortunately, the account is not deposit insured, neither under German nor Maltese law (the company behind the Blackcatcard is based in Malta).
Who is the Blackcatcard mainly suitable for?
So, for what purposes is the card and account suitable? In our opinion, the Blackcatcard is particularly interesting if you:
Are looking for an account without SCHUFA checks or other cumbersome paperwork
Are a non-German citizen who doesn't have an IBAN account yet or faces issues with traditional banks
Move globally and want to send the card to the EU or even worldwide
Want to use a shared account with partner cards for your family, friends, or children
Different versions of the card, including for teenagers under 18 years old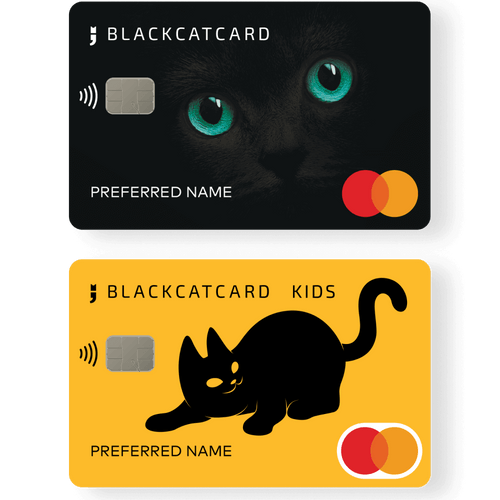 Advantages and Disadvantages of the Blackcatcard
Advantages
Free account with Mastercard for people all over Europe. Card shipping possible worldwide
No SCHUFA (credit history) inquiry, no minimum income, no proof of income necessary
Additional card, partner card, or card for children available at any time
Permanent interest on your money (currently: 2.20% p.a.)
Cashback on all transactions (0.1% on everything, 2% on Amazon, 5% Google Play)
Free payments in Euro and some foreign currencies (SEK, CZK, PLN, RON)
Free cash withdrawal in the EU up to 200 Euros per month, thereafter 1%
Extremely high cash limits: 5,000 Euros daily limit!
Card access possible for teenagers from 16 years (Blackcatcard Kids)
Buy and sell crypto, including Bitcoin, Ether, and USD Tether (BTC, ETH, and USDT)
Also available as a business variant for SMEs and freelancers/self-employed, however with different conditions
Disadvantages
Not a real checking account, but "only" an E-money account
Blackcatcard (or the underlying Papaya Ltd.) is an eMoney Institute and not a bank
No deposit insurance on your balance
Maltese IBAN (MT) and not a German IBAN (DE)
Regular 15€ fee if you do not actively use the card
Marketing spam even before you have the card (data is passed on to a company named "FINTECH ASSETS OÜ")
Mastercard is a debit card and not a credit card (no credit line or overdraft possible)
Not very suitable for abroad, especially outside the EU, due to high fees
Sending the card takes up to 4 weeks
Overview of Costs by Papaya Ltd., the company behind the card
🏦 Credit Card
| | |
| --- | --- |
| Name of the card | Blackcatcard |
| Provider | Papaya Ltd |
| Type of Credit Card | Money Account |
| Credit Card Network | Mastercard |
| With Own Bank Account | No |
| Negatice credit history accepted | Yes |
| Available Immediately (Virtual) | Yes |
| Rewards System | No |
💶 Fees
| | |
| --- | --- |
| Annual Fee First Year | 0,00 € |
| Annual Fee Second Year | 0,00 € |
💳 Payments, Cash Withdrawals, Foreign Currency
| | |
| --- | --- |
| Card Usage nationally | 00 |
| Card Usage in the Euro Zone | 0€ |
| Card Usage Outside the Euro Zone | 3% |
| Cash Withdrawal nationally | First 200€ free, then 1% |
| Cash Withdrawal in Euros | First 200€ free, then 1% |
| Cash Withdrawal Outside the Euro Zone | 1% |
💰 Credit Limit, Available Credit, Installment
| | |
| --- | --- |
| Credit Available | No |
| Credit Limit from | 0,00 € |
| Maximum Credit Limit | 0,00 € |
| Minimum Monthly Repayment | |
| Effective Interest Rate (APR) | % TAE |
🧾 Availability Limits
| | |
| --- | --- |
| Daily Limit | - |
| Monthly Limit | € 10.000 |
| Cash Withdrawal Limit | € 5.000 per day |
Zu Blackcatcard »
In addition to these traditional costs that occur with a card, there are some additional services and fees with the Blackcatcard that we would like to highlight again. The first is a monthly inactivity fee of 15 Euros starting from the 7th month. Thus, the possibility of using the account purely as a savings account is eliminated; you must actively use it every few months.
The foreign currency fee of 3% for online payments is also exceptionally high and can quickly become costly.
SEPA transfers are free only up to the fifth, but from the sixth transfer per month, you pay € 0.20.
You should definitely avoid withdrawing money abroad. The Blackcat charges a 3% fee for "withdrawal exchange rate," and there is an additional fee of 1% at foreign ATMs. Since some ATMs even have their own fee, your cash disappears relatively quickly.
Ultimately, the account is only free if you have just one card and one IBAN. With an additional card or partner card, the monthly fee rises to 2 Euros, and you must also pay again for delivery (7 Euros or 12 Euros with a personalized name).
Applying for the Blackcatcard: Simple, but Requires Patience
In total, there are 23 steps to go through if you want to secure the Blackcatcard. However, it sounds like more than it actually is.
In our video, we show you what you need for the application and what questions Blackcat will ask you. You should definitely have the following ready for the application: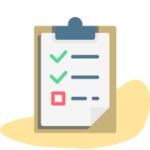 Here's what you should have ready for the application
Your smartphone, because you will receive an SMS code
Your smartphone for the video camera, alternatively, you can use your laptop camera or a webcam
Your ID or passport for identification
A recent bill, e.g., an electricity bill, credit card statement, etc., for address verification
Blackcatcard Application Step by Step Explained in Video
Our Conclusion and Further Alternatives to the Blackcatcard
We have now begun our long-term test of the Blackcatcard and are curious to see how the card performs after several months of use. Generally, we have a similar feeling as with the account from Monese, another e-money institution with a very similar product:
A clear strategy for whom the card is suitable is lacking from the provider, and this is also reflected in the mix of offers.
Everything does not necessarily give the impression of a bank but rather of a startup. Your data is passed on, and you receive direct marketing spam advertising for referrals and "exclusive offers" even before you have the card or account.
If we, therefore, had to suggest an alternative to the Blackcatcard, we would probably name Monese first, Vivid Money (because: free) second, and possibly even the classic options Revolut or bunq, as these providers are real banks.
In general, the Blackcatcard is quite new and has some interesting offers. We assume that Papaya will continue to develop the account and will set the focus a bit clearer. Currently, there is a savings offer and crypto, but both are not really suitable for interested investors who are also looking for ETFs or stocks.
Likewise, basic functions like cash and payments are available, but not for a traveler or a user abroad. Let's wait and see where the journey with Blackcat goes.
Alternatives to the Blackcatcard: Monese, Vivid, Revolut, bunq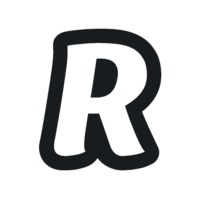 Revolut
Free bank account including credit card without credit check
4 account models that can be cancelled at any time
Free cash withdrawal up to 200€ or 5 cash withdrawals per month
Disposable virtual credit cards for one-time payments
Easy exchange of cryptocurrencies and commodities
Fee-free currency exchange in 30 currencies up to 1000€ per month

Monese
Instant account opening in 3 minutes
Free account with real-time transactions, debit card
Instantly generate virtual credit card
Support in 14 languages, incl. German, Turkish, Romanian, Polish and more
No address verification or credit check
International transactions in 19 different currencies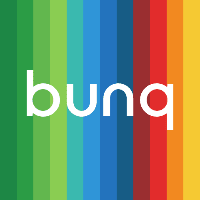 bunq
Bank account with Mastercard debit card
5 minute application with no SCHUFA or credit check
3 cards (1x Maestro, 2x Mastercard), 5 virtual cards, 25 (!) IBAN accounts included
Mobile bank with a great app, Google Pay, Apple Pay and good support
Sustainable and environmentally friendly banking (carbon offsetting, equal opportunity and more)
Papaya Ltd: Who is Behind the Blackcatcard?
The Blackcat is issued by Papaya Ltd., a fintech (financial technology company) from Malta. Papaya has a license to operate as an e-money institution in Malta, allowing it to issue cards and offer payment services. While it is not a bank, it is still regulated and subject to Maltese supervision.
In addition to the Blackcat card, Papaya also has other products like the "Gekkard," which is intended to play on a gecko card. This continues to be offered and does not differ too much from the Blackcat.
If you want to reach the service of the Blackcatcard by phone or email, you can check out the contact details that we have compiled for you:
Blackcatcard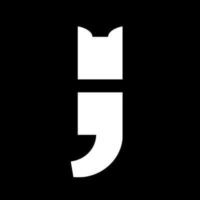 | | |
| --- | --- |
| Company name | Papaya Ltd |
| Company type | Fintech |
| Address | 31 Sliema Road, Gzira GZR 1637, Malta. |
| Website | blackcatcard.com |
| Email | customerservice@papaya.eu |
| Phone | +356 20 155 500 |
| Whatsapp | |
| Hours | |
| Social Media | |
| English support | No |