Instant loans online: A good option for last minute expenses
Sometimes you may want to borrow some money online instantly. You may have to pay for that new computer which was slightly over the budget, or you need some leeway for the last days of the month. Applying for an instant loan at your traditional bank may be difficult, since bank processes are often very slow and require a lot of documents.
That is why at GIROMATCH we test and review the best loan providers online. You may want a €5000,- loan with instant approval or a small loan with low interest. We only work with partners which can offer you a broad range of products. By applying for a personal loan through our loan platform, you will be able to take your loan online, get your loan in a few minutes and enjoy your money the day after your application.
If you want to know more about our offer, keep on reading! In this guide, we will show you:
If a loan is not what you were looking for but you still need some flexibility, we will show you some alternatives such as free and instant credit cards.
Instant loans in few minutes: the characteristics of our online loans
An instant loan is an easy way to get financed for small expenses. Instant loans are characterized by a quick application process and fewer requirements in comparison to traditional personal loans. By applying online, you won't need to upload plenty of documents and you will be able to choose the best offer for you.
Through our loan platforms you can apply for a quick loan and receive an instant pre-approval. Once you follow the instructions we will send you per email, you will be able to get your loan on the same day of your application. Besides, we recommend you to connect your bank account through our online check and use your digital signature to speed up the process.
In the following table you can find the main characteristics of the instant loans you can apply for through our online platform.
| | |
| --- | --- |
| 💰Amount | €100,- to €100.000,- |
| 🕒Duration | 1 to 120 months |
| 💸Instant disbursement | Daily if you finish the application before 4pm |
| ✅Instant approval | Pre-check of your application in 3 minutes |
| 🔎No credit check | Up to €7.500,- loan for bad credit |
🔒 Your data is secure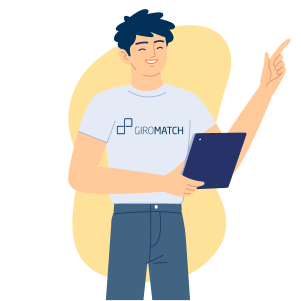 Instant loan without documents
There are many reasons why you may want to apply for an instant loan without documents. On the one hand, there are people who receive a monthly income which cannot be certified, as an example, many international students who don't have a job but receive funding from their parents and may want to apply for a student loan. Besides, once you arrive in Germany you may have to look for a suitable job and use your spare money for the first months.
Not being able to show a proof of income may complicate the loan application process in a traditional bank. However, GIROMATCH works with several partners which grant instant loans without documents.
To apply for a loan through our platform you will only need:
a mobile phone number
a valid email address
a European bank account and
a valid identity card or passport
Quick loans in Germany: pros and cons
When you want to borrow money online instantly, you will probably tend to choose the first offer which seems viable. There are a lot of providers of small loans online, even with low interest and a quick and easy approval. However, if you want to take a loan online, you should first understand whether this option is the best for you.
As an example, if you really need an instant loan today, applying online for a quick loan in Germany may be a profitable solution. Nevertheless, if you need financial advice and you are not sure about the amount of money you may need, applying for a loan in a traditional bank may be more suitable for you.
In the following, you will find pros and cons of applying for quick loans in Germany.
Pros
Quick online application: online providers offer usually short and automatized application processes. In general, you can connect your bank account through your online banking and sign your contract with a digital signature
Easy approval: online loans' providers go through your application quicker than a traditional bank and send you a pre-approval right after having sent your application
Instant loans without documents: thanks to automatic processes, you will not have to upload your documents and you will be able to send your application from your sofa
Compare loans online: if you are not satisfied with your loan or you simply want to compare different offers, GIROMATCH collects the best quick loans for your to look at
Cons
Limited loan amount: by applying for an instant loan, you cannot expect to receive high amounts of money. This is due to the fact that quick loans' providers accept less requirements in order to speed up the process and as a consequence, they are taking a bigger risk
Lack of personal touch: if you are still unsure about which loan you should apply for or you simply need additional financial advice about related products or services, online you won't find your personal financial advisor. For this, you should go to your home bank
Without documents is more difficult: even though the application process is quicker, applying for a loan without your German residence or your income proof can lower your approval chances down. Make sure to fulfill the loans' requirements to make everything easier
🔒 Sicher und verschlüsselt
How to take a loan online? What we do, step for step 
Whether you need a €5.000,- loan with instant approval or a bigger amount of money, at GIROMATCH the application process is always the same. Thanks to our long experience in the credit sector, we set up a quick online form to fill in. After having sent your personal data, you will instantly get a pre-approval.
If you are apply for an instant loan, you can indicate us your preferences for a quick disbursement on the top of your application form: we will prioritize the elaboration of your application and get back to you in a few minutes!
In the following, you can find our application process step for step: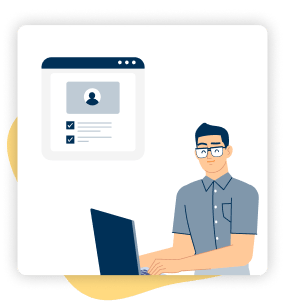 Fill our application form
In our form, you have to provide us with information on the loan you want, such as loan amount, duration or purpose of the loan. We will also need some personal information on you, such as your current job and information on your financial standing.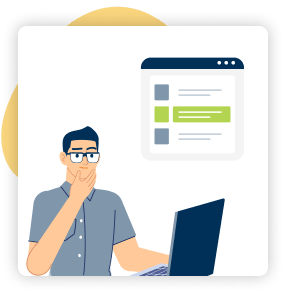 Pick your preferred loan offer
You will be matched to a loan offer that you can choose. This will depend on your application, the amount you have requested, but we will also consider your status as a foreigner and not offer you loans that are not possible for you.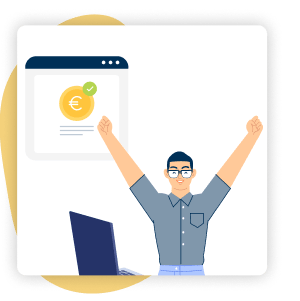 Receive your loan within 24 hours
Before receiving your money, you will need to verify your information and identity. For this you will need to identify yourself and conclude the loan with an online signature. The loan will then be paid out to your preferred bank account.
Alternatives to a personal loan with instant approval: Apply for a instant credit card
Applying for an instant loan may be a good solution, if you need a small amount of money once in a while and you are sure that you can pay it back in the given term. However, there are also other options to finance your purchases, especially if you need more flexibility:
Charge credit cards with a credit limit: our best offer is Advanzia's Mastercard Gold which gives you up to 20.000,- EUR per month. You can read more about it in our in-depth review.
Virtual credit cards with credit limit: if you cannot wait until the dispatchment of your card, Novum bank offers a virtual credit card with up to €3.000,- limit which you can apply for within few minutes
If you want to know more about free credit cards, you can have a look at our guides!
Instant loans: everything you need to know
Yes, it is possible to obtain a personal loan or credit in Germany as a foreigner. This counts for expats as well as students. You do however need to have a residence in Germany and need to be registered here ("Anmeldung" or "Meldebescheinigung").
The required qualifications include a fixed monthly income, a clean credit history ("SCHUFA") as well as proper identification and ability to pay back the loan.
For personal loans ranging between 1.000,- and 25.000 Euro, which is the most common amount for credit in Germany, you will need to have
a monthly net income of at least 600,- Euro
a permanent residence and address in Germany
identification documents (passport or ID-card if you're a EU citizen)
mobile phone number and email address
Furthermore, a clean credit history is recommended, otherwise your options will get a lot narrower and interest rates increase.
We are a loan platform operating out of Frankfurt, Germany. As such, it is possible for foreigners to apply for a personal loan in Germany on our platform. We have been operating as a loan and brokerage platform where loans are financed by banks, credit institutions and private individuals.
To obtain a loan, you have to fill out our online loan application form. Don't worry: Our services are always free for you.
When you apply for a loan at your home bank, you are usually required different documents such us proof of income and previous loans or mortgages. Applying for a loan online can ease the application process, since many providers have automized their processes and offer you loans without the need to upload or send additional documents.
However, this doesn't mean that you will be able to apply for a loan without any proof. Usually banks require:
a proof of stable income (which they can retrieve from the cash flows, once you have connected your bank account through your online banking)
a minimum monthly income: this varies from bank to bank but it is usually €500,-
a clean credit history
an identity card or passport
GIROMATCH is a loan broker, this means that we work with numerous partners to offer you the best loans but do not disburse the money ourselves. However, our partners grant you loans from €100,- to €150.000,- according to your financial situation and needs.